The Fantasy Doctor is In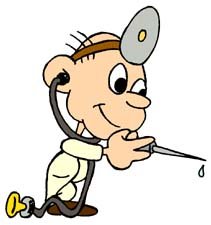 What to do with Marion Barber in Week 3?
-Barber said today that he is determined to play in Week 3 against the Panthers. Despite the confidence, Barber is not a safe bet for production and given his Monday Night game, unless you have Felix Jones or Tashard Choice to go to in case he is inactive, it may be best to bench him. If you are a Choice or Jones owner and want to use them in a flex role, this is a similar issue. Unless Barber is declared out or limited by Sunday at 1pm, play a safer option.
Should Cadillac Williams missing practice Thursday be concerning?
-Absolutely not. The Bucs back has looked great through two games and was simply getting a day off after playing his first game on turf in week two. Caddy does have an interesting matchup in Week 3 against the Giants, who were destroyed on the ground by the Cowboys.
Even if healthy should Hasselbeck gets the call and if not, who can we get to fill in?
No. Hasselbeck looked rusty in the first half against the 49ers and that was before his injury. He is not a safe bet to play let alone finish a game this week. Other QB's to consider who may be available are Flacco, Leftwich, Cassel and Kolb.
Wes Welker returned to Pats practice Thursday...big deal?
For Tom Brady owners yes, because as good as Julian Edelman looked, you could tell that he missed the chemsitry he had developed with Welker. For Welker owners, be patient and do not expect a miracle. There is still a chance he sits out Sunday, but just in case, be ready to insert him in if he is declared active.
Bench Jamal Lewis this week?
Yes. Lewis has missed the last two days of practice and is not the type of back to perform well when not at 100%. This may be the opening rookie James Davis needs to excel, but let him prove that first. This may be the changing of the guard, or back in this case, in Cleveland.
What crazy name may have a crazy game in Week 3?
Michael Clayton, the WR of the Bucs may just have a huge Sunday against the Giants. Here is why. The Giants should get a decent lead on the struggling Bucs, thus forcing the Tampa offense to air it out. With Antonio Bryant and Maurice Stovall unlikely to play, Clayton becomes Leftwich's #1 option, and considering he has done a solid job getting his wideouts in the end zone so far, Clayton may be a solid, sleeper flex play.