Fantasy MLB & NFL News and Notes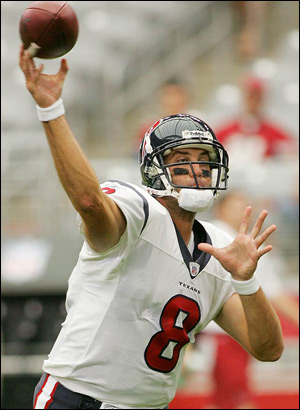 NFL
-
Matt
Schaub is "day to day" after he tweaked his ankle in Monday night's exhibition.
-Marvin Lewis was impressed by Carson Palmer (ankle) after the quarterback returned to a portion of team practice drills Tuesday. Palmer is on track to return to the team Week One and is a sneaky play against a terrible Denver secondary.
-Damon Huard released by 49ers, Nate Davis to make final roster.
-Despite 1 year contract extension, do not expect big things from a rusty Ricky Williams.
-D.J. Hackett to be cut by Redskins in favor of Marko Mitchell.
-Fargas still out of Raiders practice and has now missed 2 weeks.
-Javon Walker to begin season as #3 WR in Oakland.
MLB
-Troy Glaus, Jose Guillen, J.J. Hardy, & Wright activated from the DL.
-John Maine & Nate McLouth to begin rehab assignments.
-Mat Latos to make one final start for the Padres, Saturday against the Dodgers.
-Sizemore to undergo shoulder surgery before the end of the season?
-Phillips not playing with broken hand...it is fractured..