Beatin the Books-CFB Week 3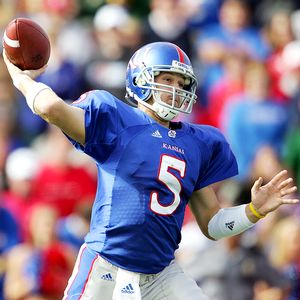 Thanks to Notre Dame's choke job and USC not being able to win by a larger margin, last week was a down week in CFB (thankfully we made upf or it in the NFL). Now onto this weeks action..
Kansas -23 vs. Duke
Duke has played pretty well so far in 2009, but they will have no answers for Todd Reesing through the air and Jake Sharp on the ground. Kansas will score 45+ and wont allow more then 20.
Toledo +20 vs. Ohio State
The Buckeyes have been very unimpressive so far in 2009, squeeking by Navy and losing at home to USC. Toledo on the other hand has an experienced QB, talented WR group and should keep it within 17 or so. 20 seems a bit to high. Maybe buy a point and get it to 21.
Notre Dame -10 vs Michigan State
Notre Dame will come out pissed on Saturday and look to show that it is better then they showed lastw eek in their loss to Michigan. MSU wont be able to stop the Irish offense and after a loss at home to Central Michigan, it is evident MSU will struggle on the road.
Florida -30 vs. Tennessee
30 is a ton of points. I know. But everyone knows Florida wants to run it up Saturday against Lane Kiffin, so a 48-14 win still covers it.
BYU -8 vs. Florida State
BYU first beat Oklahoma then went in and crushed Tulane. FSU came off a heart breaking loss to Miami by struggling against Jacksonville State. The Cougars are still playing for a potential BCS spoiler spot and have too many weapons for the Seminoles to stop. Take into affect the altitude and BYU wins this by 10+
Good look with your picks and let us know of any other games we should be looking out for...